Leroy Wright, an African American resident of Buxton, Iowa in the early 1900s stated that Jack Brookins, also African American, invented a railroad signal.

"He made a patent on the railroad trap out of a mouse trap and they tried to get people to take out shares but they wouldn't do it but it passed," said Wright. "All he got for that was $10,000 … A mousetrap on the railroad. When the train was going, it automatically stopped. Jack Booker [Brookins], he's the one made that trap, made that signal."
I haven't been able to confirm the $10,000 (about $281,083 today) payment or details on the shares. But I did find two patents registered to Andrew J. Brookins of Buxton, Iowa in the March 1921 edition of the Official Gazette of the United States Patent Office, Volume 284.
1. 1,369,880. Train-Control Apparatus.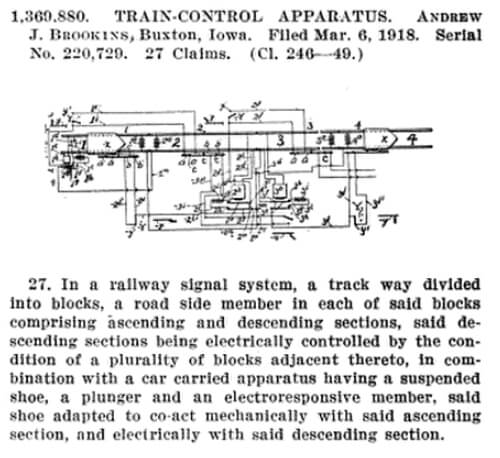 "27. In a railway signal system, a track way divided into blocks, a road side member in each of said blocks comprising ascending and descending sections, said descending sections being electrically controlled by the condition of plurality of blocks adjacent thereto, in combination with a car carried apparatus having a suspended shoe, a plunger and an electroresponsive member, said shoe adapted to co-act mechanically with said ascending section, and electrically with said descending section."
2. 1,369,881. Train-Signal.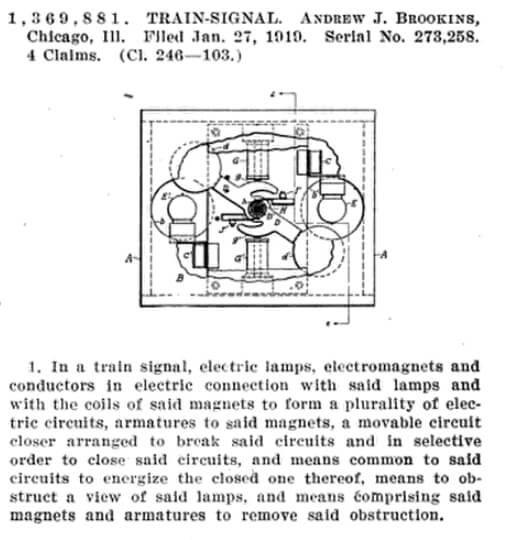 "1. In a train signal, electric lamps, electromagnets and conductors in electric connection with said lamps and with the coils of said magnets to form a plurality of electric circuits, armatures to said magnets, a movable circuit closer arranged to break said circuits and in selective order to close said circuits, and means common to said circuits to energize the closed one thereof, means to obstruct a view of said lamps, and means comprising said magnets and armatures to remove said obstruction."
Looks impressive and definitely worth more research.